AUCTION №16
Description of our system
There is a short instruction about catalogue for the auction participants, which we made for your comfort.
We recommend you to use Google Chrome, Opera, Mozilla Firefox or Microsoft Edge for the correct display of the data.
Part 1. Registration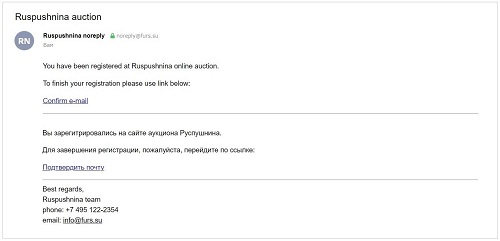 First of all, you need to get registered on our site. Please fing Register button at main page. After the registration you get a e-mail with a link. Use it to confirm your e-mail.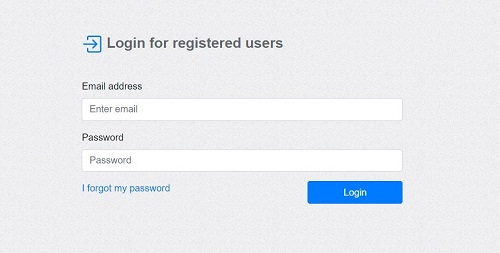 Then enter your personal account, using your login (email) and password.
Part 2. Inspection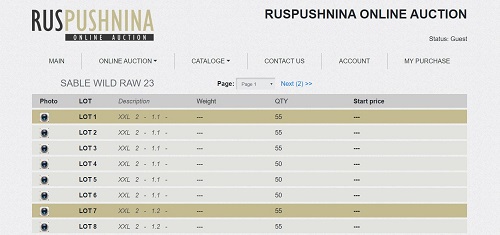 You may examine the collection on the "Catalogue" pages. There are 5 photos of each show lot.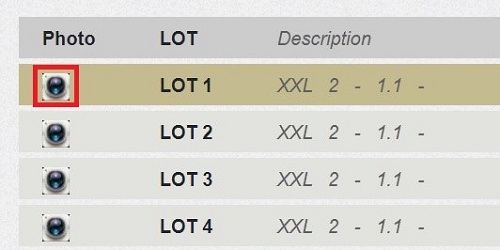 We tried very hard to choose the exact angle which may show you the main characteristics of the product accurately. Clicking on the photo, you open an extra menu with all the available photos of the lot.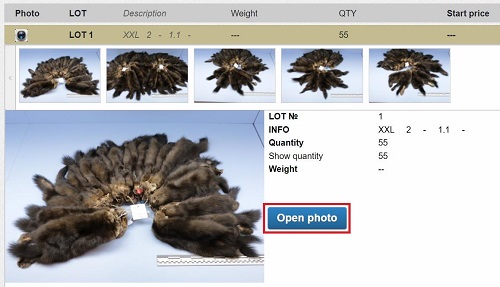 It enlarges automatically, when you place a cursor on the photo. You can control the enlarging with a mouse wheel. You can click "Open photo" and open it in another window.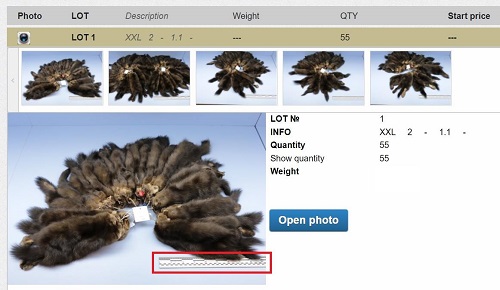 Attention! In the first picture, there is a ruler placed by the show lot, which shows the length of the skin. Both this index and an average weigh of the skin, noticed in the catalogue, help you to understand the real size of it.
Part 3. Sales

To participate in the auction directly, you should obtain an auction number. To get the number, please, contact our office:
Russia— sales@furs.su — Matjushev Ilya
Export — logistics@furs.su — Stepanova Svetlana
When your status changes from "Guest" to "Broker", the online auction interface becomes available to you.
Next we go directly to the online sales interface, which is available to the broker.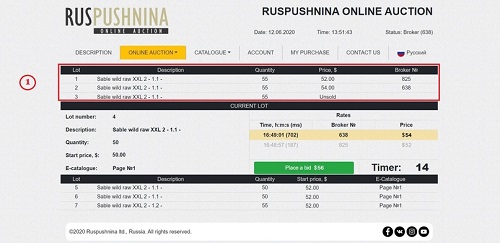 1.The upper part contains a list of sold lots with the price and number of the broker who has bought it.
2. In the middle there is an interactive field with a lot that is being traded right now.
It has a field with the starting price, the last bid, and the "Place a bid" button.
Attention! Each lot is traded separately.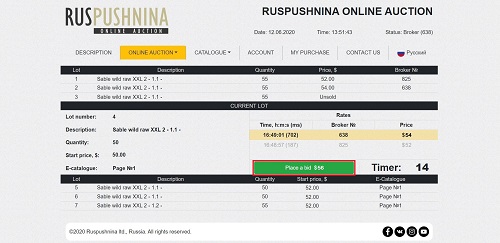 The "Place a bid" button automatically sets to one step higher, so you dont need to enter anything.
Attention! A special timer regulates the time of processing each bid — 15 seconds. Each new bid resets the timer.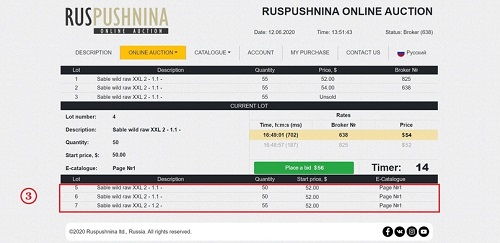 3. The lower field is a list of lots that will be traded next. For your convenience, the starting price will be set in advance.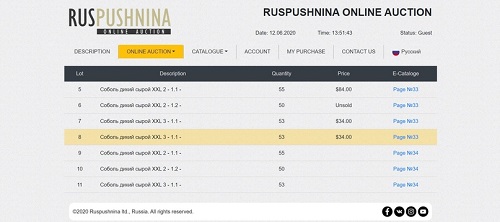 An interface with limited functionality will be available for guests. They will be able to observe which lots are sold and what is the final price.
Part 4. Video

An online conference in Zoom will be available for buyers throughout the auction. The personal link will be available on your account on our website. Video broadcast is an additional tool, but not the main one.
Note! You can participate in an online conference without installing the program on your computer, and watching it through a browser. However, we still recommend you to install it on to your device for your convenience.
With a pre-installed program on your computer, you will be able to place the broadcast in a compact form in the corner of the screen and use the interface on online.furs.su without interference.
Furthermore, there will be organized a public broadcast on YouTube.
Attention! The auction will be attended by buyers who have this opportunity. However, the priority for accepting bids is online.
Our catalogue also contains starting prices. In advance you can send a list of lots with prices or a possible range (for example, $60-66) which is appropriate for you. They will be processed by the auctioneer during the sales.
If you still have any questions, we will be glad to answer them:
— by phone: +7 (495) 122-23-54, +7 (812) 454-75-54
— by email: info@furs.su, spb@furs.su